4.9.2023

FLESH FEST IV - HEAVY THRASHING RAGE!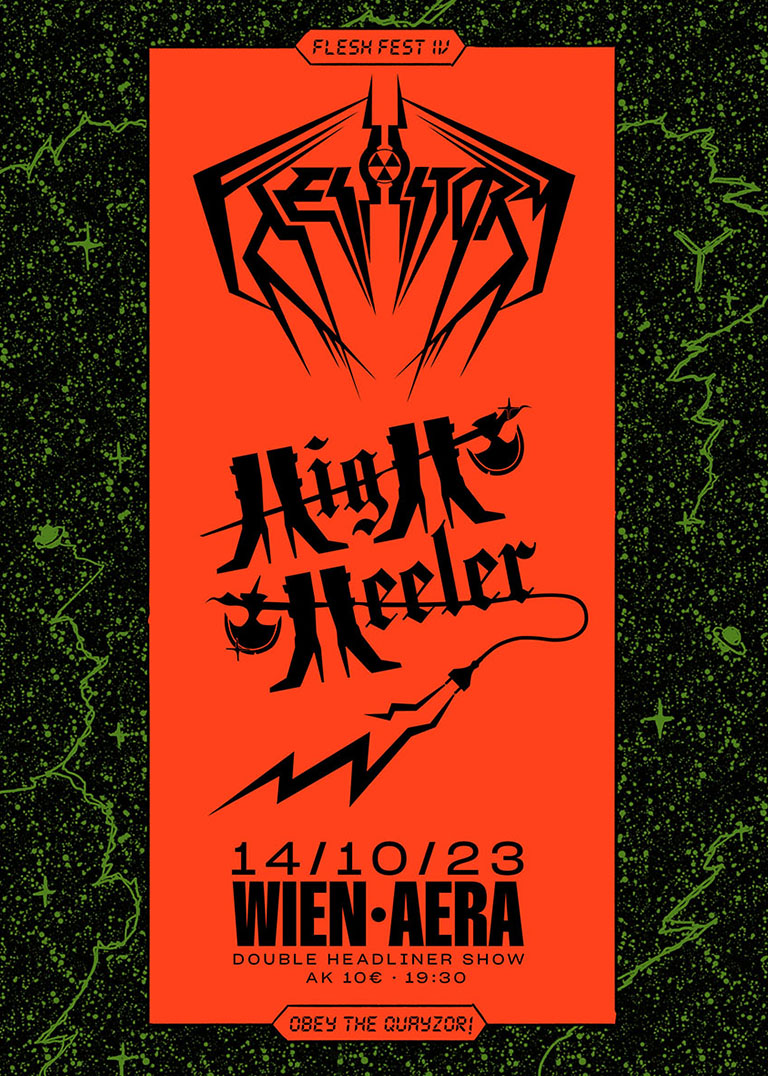 Double Headlining Attack! We'll join forces with fellow Sci-Fi Thrashers FLESH STORM and deliver a full headline set. Don't miss this - you never know if, when and how the Heel returns.

No presale, 10€, doors 19:30.

See you in the cellar of the AERA, Gonzagagasse 11, 1010 Wien.


20.2.2023

THE ULTIMATE POWERFORCE 2023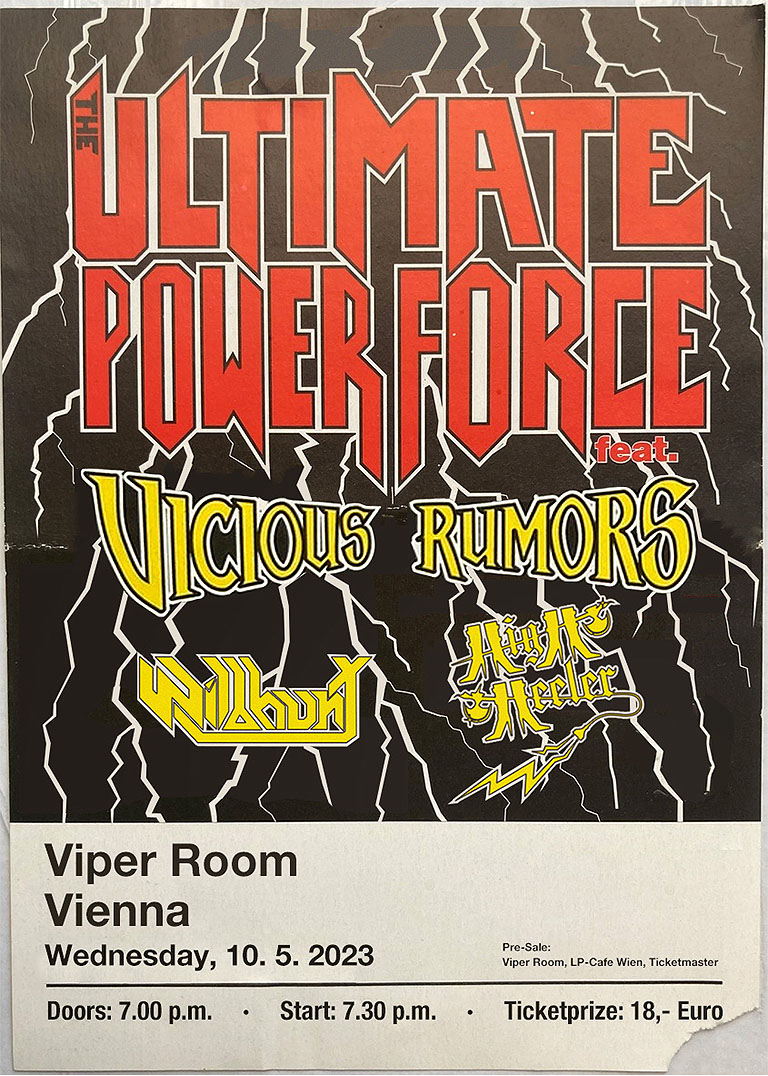 It's been some time! New tracks are waiting for their live-premiere, so we decided this is the day: On May 10th 2023 we'll join up with WILDHUNT and VICIOUS RUMORS for a night of Heavy Metal Shock, deep down in the dungeons of the Viper Room Vienna. Contact us for presale-tickets - expect riffs!



21.3.2021

OPHELIA - YOU'RE PRONE TO MADNESS
Finally, after 20 years, we are proud to say that we've managed to release every relevant physical format in metal-history. A Demo-CDR, a Tape featuring a Live-Album, an EP, a Full-Length Album on LP and CD, 2 Vinyl Compilations and finally a 7" Single.

We are more than happy with how things turned out. This new single features 2 tracks we absolutely love and we hope you do, too. 170 copies have been made and the cover is cut, folded and glued by hand. Order at the HEELSTORE or get your digital delight at Bandcamp.



13.9.2020

PANDEMIC HEELING
Yeah, bad times around this pitoyable globe. Anyway, we restocked the HEELSTORE and introduce a highly innovative checkout-process: You choose what you want, add the costs and send us the money. Amazing.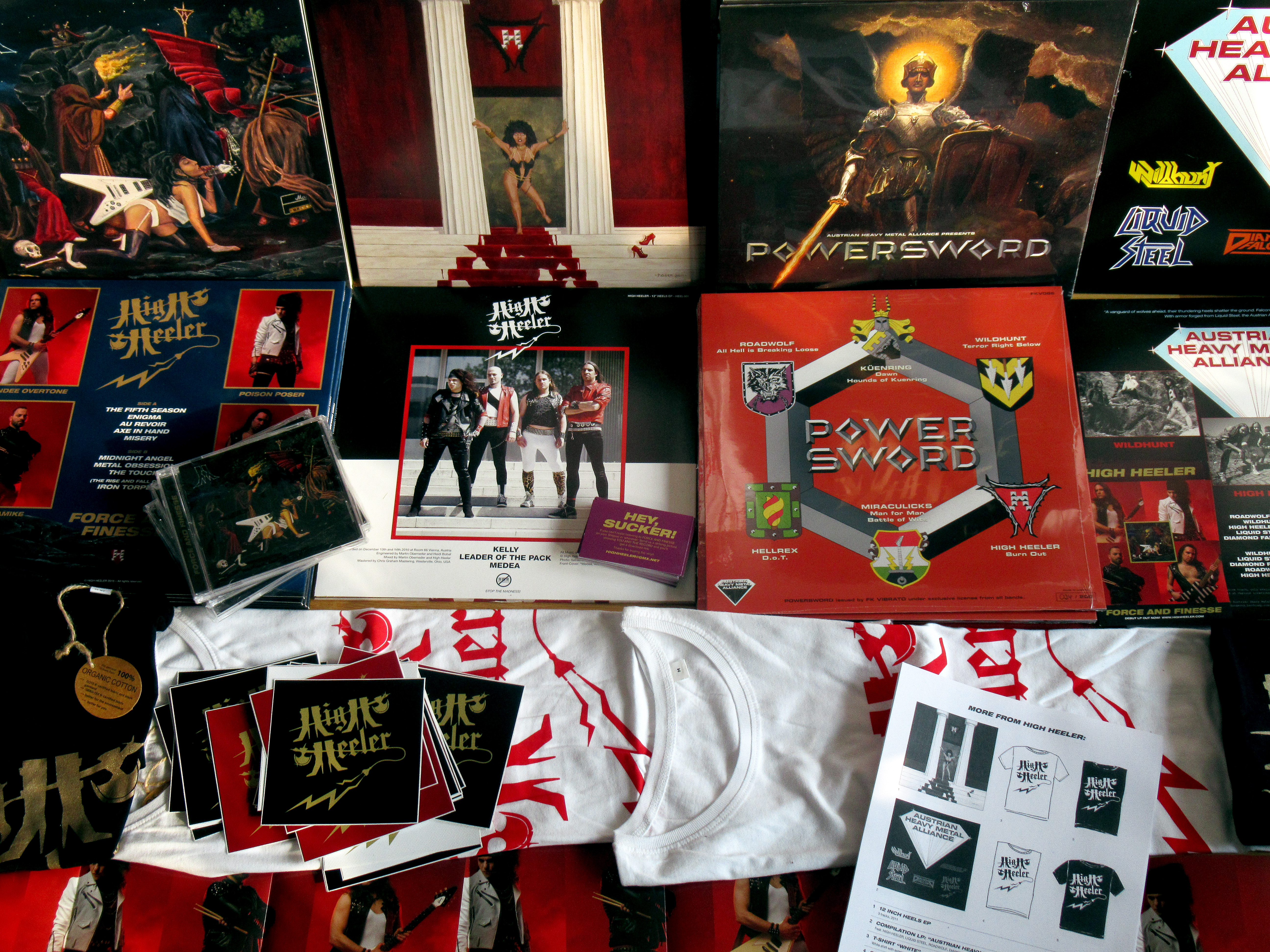 What else?
Andee and Poser had a nice in-depth chat with Stavros from Filthy Dogs of Metal Zine - read it here.

What else?
As Facebook is finally taking it's way even further down the drain (Hello Myspace!), we set up an Instagram accout. Expect duckfaces, Make-Up tutorials and bathtub-glam here.

What else?
Poser managed to finish some new lyrics, so we have a thrilling new future classic called "Ailleurs". Expect a recorded version not before late 2023. Until then study the lyrics here and guess how the song may sound like.

Oh, and our upcoming 7" single has been sent to the pressing plant, expect news in the near future.

Over and out.



21.10.2019

POWERSWORD IS HERE!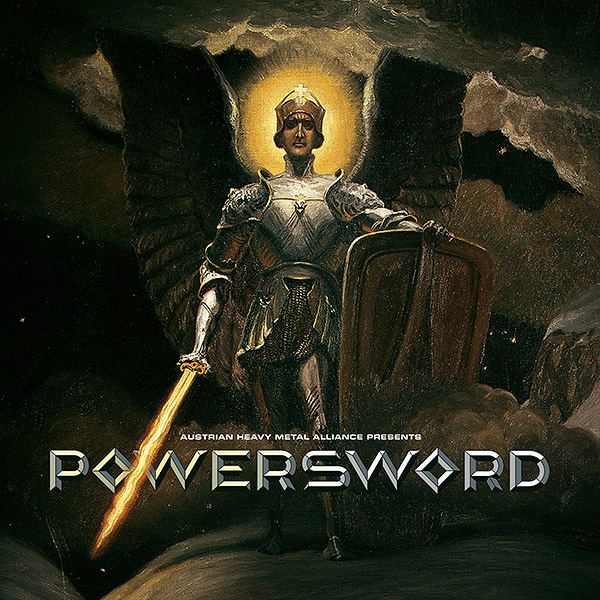 The Austrian Heavy Metal Alliance strikes back with another vinyl compilation and we're extremely excited to be featured with our blistering new track BURN OUT.



Vinyl will be available later this year in the Heelstore, it wil be black and limited to 200 copies. The full album is also available digitally here: POWERSWORD on Bandcamp



6.6.2019

UP TO DATE
World! As complaints came to our attention that this very website is not always 100% up to date, we strongly encourage you to sign up to our mailing list. Never miss any Heeling Activities anymore: Send a self-adressed envelope and some stamps to poisonposer@chello.at and you're in.

What you may have missed since our last update:
- 12" Heels EP is almost sold out, be sure to get your copy before it's gone forever
- We'll be featured on another Vinyl-Compilation with new track "Burn Out"
- Exactly 13 years ago we played a killer show with Toxic Holocaust at the Escape Vienna
- We played a killer Show with Cauldron, Küenring and Grim Justice at the Viper Room Vienna on Oct 10th 2018
- We played a killer Show with Jag Panzer at the Arena Vienna on June 5th 2019
- We will play a killer show at the Viper Room Vienna on August 31th 2019

Buy some shit, we can't pay studio time with youtube streams.


29.8.2017

HEELING ON!
Dear fellow readers, here's a quick sum-up on the recent Heeling-Activities. After recovering from the stress of the LP-release, we managed to play some shows and wrote new stuff. Some of it is already recorded and currently in the mix. Check out the lyrics for our latest tune "BLOOD OF ZEUS" in the poetry section, they deal with one of the most epic battles of all time: Zeus vs Typhon!
Up next: Live in Vienna with Mega Colossus (US): 25.9.2017, Replugged.
More news whenever we are in the mood - stay wild!

1.3.2016

FORCE AND FINESSE IS HERE!
LP: self-released. CD: Swords & Chains Records USA
The Heel steps around the globe, apparently leaving some impression. Thank you, Global Heavy Metal Connoisseurs!
Order here!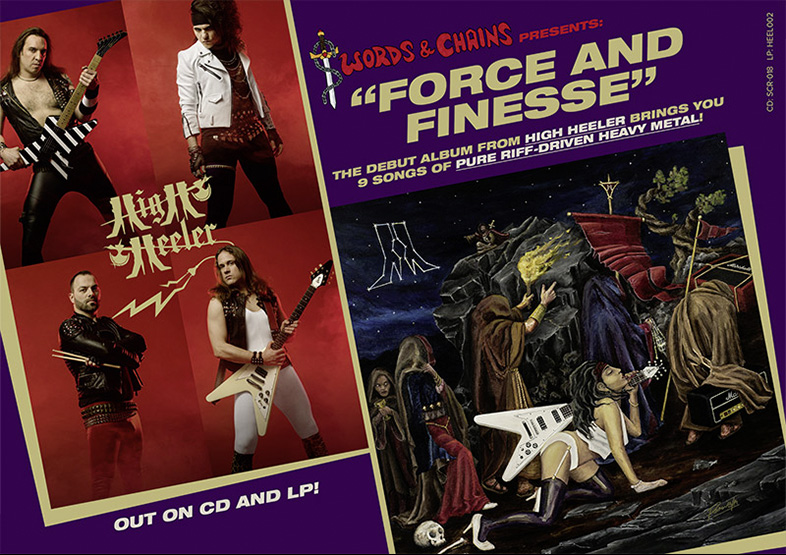 FORCE AND FINESSE IN THE PRESS:

»The album is practically overflowing with riffs.«

»This is a record that is all about great songwriting.«

— SKULL FRACTURING METAL (CAN)



»High Heeler's sound and style are too refined, individualized and confident to be the result of a band just starting out.«

— TRUE METAL LIVES (USA)



»Fresh and powerful, still reminiscent of Speed Limit and U8.«

— METAL UNDERGROUND (AUSTRIA)



»Pure Heavy Metal with an excellent taste for melody and thrilling twin-guitar-work.«

— METALLIFER (FRANCE)



»Un debutto che è un tributo ad un'altra epoca, ad un altro sound, ad un'altra atmosfera, ad un'altra immagine. Puro metallo!«

— METALHEAD (ITALY)



»I am duly impressed with the sound and attitude of the songs«

»The polished sound of 80s era power pop metal«

— DECIBEL GEEK (USA)



»There is something completely captivating about this band.«

— TOILET OV HELL (USA)


20.07.2015

FORCE AND FINESSE!
It seems like a lifetime since we started this project, and we are more than happy to announce that our Debut LP will definetly be released this autumn.

Here's a first glimpse, enjoy.



15.01.2015

OUT NOW! 2 NEW HIGH HEELER TRACKS, CARVED IN VINYL!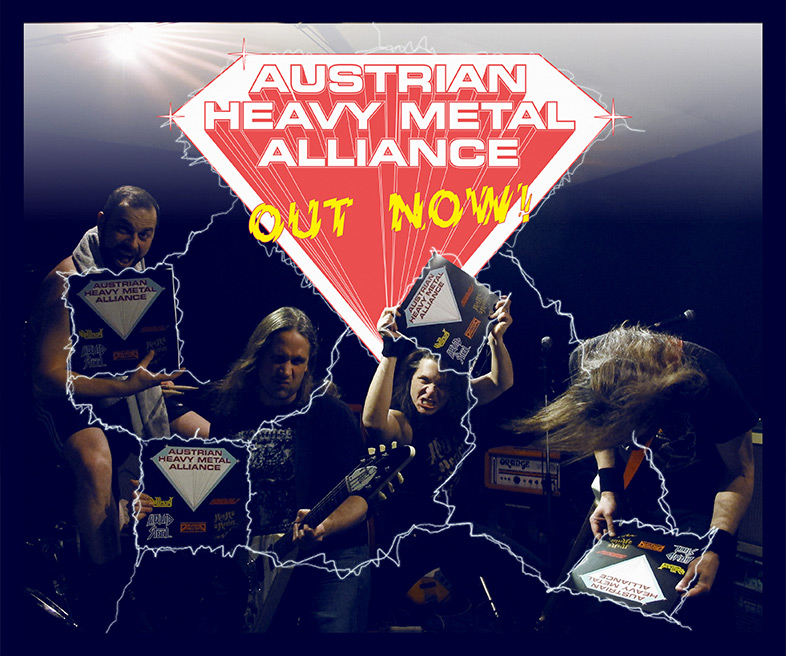 PEOPLE OF THE WORLD! We are pleased to present you: 2 new HIGH HEELER tracks on black vinyl!
V.A. - AUSTRIAN HEAVY METAL ALLIANCE
Featuring WILDHUNT, LIQUID STEEL, ROADWOLF, DIAMOND FALCON and HIGH HEELER!
Order now – Super Nice Price: 12€!
Get it at the Heelstore!
21.10.2014

2 NEW HEELING TRAXX ON BLACK SHINING VINYL!
The AUSTRIAN HEAVY METAL ALLIANCE is proud to announce it's first major strike:

A compilation-LP featuring all five bands of the alliance, released by fine Austrian label THE DOC'S DUNGEONS in fall 2014!



The LP will be released on black vinyl with additional insert. Mastered for vinyl by PATRICK W. ENGEL.

The AUSTRIAN HEAVY METAL ALLIANCE (AHMA) is by now a conglomerate of five Austrian heavy metal bands who joined forces in april 2014. The goal is to draw some well deserved attention to contemporary Austrian heavy metal music, in Austria and across the globe.

Andee Overtone, one of AHMA's driving forces, explains: "From a heavy metal perspective, Austria was a dead wasteland between 2000 and 2010. Only a handful of bands stuck to old school heavy metal, nobody showed up at the concerts, bands like OMEN or AGENT STEEL playing in front of 50 people in Vienna. Around 2010 things got better again, and now there's a healthy underground scene with many interesting bands all across Austria.
We wanted to channel all that energy, tighten the bonds between these like-minded artists. All of these bands are currently working on (or just released) their debut-LPs, play lots of gigs and share a great attitude - founding the AUSTRIAN HEAVY METAL ALLIANCE at this very moment just felt like the right thing to do!"

On this compilation, each band showcases two tracks, many of them still unreleased. HIGH HEELER's Kalaschnikov has been recorded exclusively for this release.
The record will be released in fall 2014, available directly at the bands and through THE DOC'S DUNGEONS and it's distribution partners.

The Bands of the AUSTRIAN HEAVY METAL ALLIANCE:

DIAMOND FALCON

HIGH HEELER

LIQUID STEEL

ROADWOLF

WILDHUNT

Tracklist: V.A. - AUSTRIAN HEAVY METAL ALLIANCE
The Doc's Dungeons, 2014

Side A
ROADWOLF - Never Surrender
WILDHUNT - Erlkönig
HIGH HEELER - Midnight Angel
LIQUID STEEL - Liquid Steel
DIAMOND FALCON - Through Death

Side B
WILDHUNT - Thrill to Kill
LIQUID STEEL - Fire in the Sky
DIAMOND FALCON - Deus Non Vult
ROADWOLF - Pumping Iron
HIGH HEELER - Kalaschnikov

Support the AUSTRIAN HEAVY METAL ALLIANCE!

Check out THE DOC'S DUNGEONS


17.09.2014

HEADING EAST!
After a nice show with swedisch DEAD LORD and NOCTUM in Vienna, the Heel will head East to the country where Classic Heavy Metal has survived!
HIGH HEELER join forces with Hungarian Metal-Legend STRESS, accompanied by our brothers in arms WILDHUNT and hungarian REBEL. This for sure will be an explosive event of 100% Heavy Metal Power!

01.04.2014

AUSTRIAN HEAVY METAL ALLIANCE
From nowon HIGH HEELER are proud member of the AUSTRIAN HEAVY METAL ALLIANCE! The Alliance is a conglomerate of five like-minded Austrian Heavy Metal Bands who joined forces to draw some well deserved attention to contemporary Austrian Heavy Metal Music, in Austria and across the globe. Stay tuned for further activities!

The BANDS: LIQUID STEEL / HIGH HEELER / ROADWOLF / WILDHUNT / DIAMOND FALCON
AUSTRIAN HEAVY METAL ALLIANCE on Facebook
Support the Alliance!

17.02.2014

ASCENDING HIGH!
Finally, the finish-line is in sight! Currently Andee is recording some thrilling solos for the LP, on March 8/9 the final vocals will be done, and then it's all up to the Mix! HIGH HEELER are quite excited about their effort, all the hard workin' night shifts will finally be rewarded. 9 Tracks of thrilling, unique Heavy Metal Magic have been tracked down and will (hopefully) be released on vinyl in June! Stay tuned for more.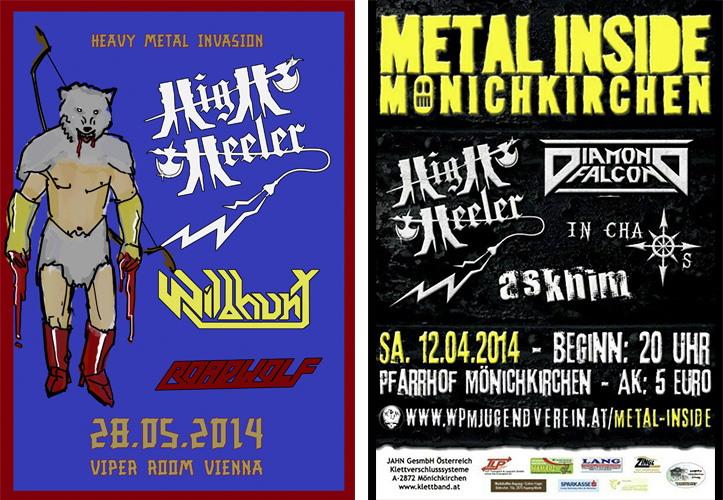 24.08.2013

UNDER HEAVY CONSTRUCTION
The Heeling Monument is on the rise! Nearly all drumtracks are done, currently the razorsharp dual-lead-guitars are in the works. Still a lot of work to do, but be prepared for a master-stroke! When everything's finished, the Heel will be on the road again, starting off on Nov 9th at the "Mozarthof Klagenfurt", together with the wild boys of WILDHUNT.
See you!

08.03.2013

THE COLOURS OF SPRING
As the wintry ice melts and the beautiful birds's tweets echo through the nightly city-streets, also the heeling poetry blossoms in new adorable colours. Step here for a deeper investigation of the recent state of the heeling art - new song "Midnight Angel".
Currently HIGH HEELER are in preparations of recording their epic Full-Length Debut-LP, so please be indulgent if they may not respond to your fan-mail immediatelly. Nevertheless, Pre-Orders for the limited 1st Press Special Edition are taken from now on, just send a mail if you feel the urge.
30.11.2012

COLD AUTUMN NIGHTS
Fellow Comrades, here's a bunch of Heeling-News to bring you up to date! First HIGH HEELER thank all international Connoisseurs of pure Heavy Metal who haven't been shy of showing their sympathy for the Heeling Crusaders! Vast amounts of Heeling Wax have been transferred to various locations around the globe, giving evidence that the language of Heavy Metal is a truly universal one! Following our goal to Heel the World, the Black Diamond is from nowon also available in the USA - get your copy at Swords and Chais Records as long it's in stock!

Viennese residents may join our upcoming show at the Escape together with the STEEL HORSE from Spain and the austrian ROADWOLF!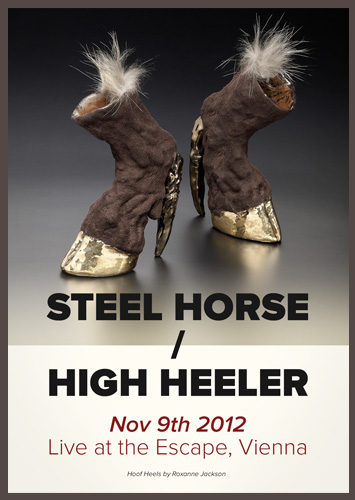 Potential attendants may be lured to this Rendez-Vous of Steel by examining the lyrics of the new Heeling-Breaker "The fifth season", feel free to involve youself on location by banging heads, raising fists and shouting out some Heeling Poetry. Contact HIGH HEELER for your 10€ Presale-Ticket. May the Force be with you!

17.07.2012

HIGH HEELER: 10 POINTS! THIS IS THE VOTE OF THE GERMAN METAL INQUISITION.

Be sure to grab the current issue of the german HEAVY Magazine (07/08 2012), as it features not only a brand new SHOK PARIS track, but also Arno Hofmann's (and no other do we accept) verdict over the Heeling Case! Translated here for the studies of our International Heelslaves: HIGH HEELER - 12" Heels Austria Import/Selfreleased - Style: Heavy Metal At the Keep It True Festival some nice guys handed me their self-released vinyl. One could think that lads hanging out on such a festival simply can't make bad music. And behold - despite the intentional visual similarities to hard eighties glam-outfits (like early MÖTELY CRÜE), the music of this EP is pure Heavy Metal. Felix Austria! Pumping bass, galopping drums and ripping guitars paint a neat overall-picture, perfectly culminating in the powerful "Leader of the Pack". If the vocals grow a bit more dynamic, a truly formidable longplayer could be drawing near! Please, more bands like HIGH HEELER who set themselves into shape! There are more than enough bore-outs who's outfits suck even more than the ones of their fans... Oh, the supernice pals managed to print neither contact-adress nor band-homepage on their release - *sigh* - contact www.highheeler.com. Arno Hofmann (10 points out of 12)
13.07.2012

HEAVY METAL SUMMERNITE!

The pants were tight, the bands rocked hard and the crowd screamed out! Thanks to all attendants of our recent performance at the Arena Vienna, you made playing enjoyable. Here you find some impressions of the evening. And here's one of the rare live-video-proofs of the Heeling Magic - still unreleased track ENIGMA, which will be featured on the upcoming HIGH HEELER Full-Length LP. If you don't like this, you're either not into Heavy Metal or just pathetic scum - in both cases you can fuck off, as far as we're concerned.
24.04.2012

THE HEAVY ATTAKK: LIVE! HIGH HEELER / HORSE SKELETON 07/07/2012

Pure Heavy Metal Unbound! HIGH HEELER joining arms with fellow comrades HORSE SKELETON from Linz, showing all you trendy Retro-70iez jerks what HEAVY METAL is all about! Feel the pain of Deep Cutting Steel as the Heelsquad's most sharp and piercing weapons ENIGMA and AU REVOIR cut directly into your weak poser-flesh! No shield defeats the unbound Heeling-Force! Be sure to have some bucks in your pocket, as there will be opportunity to get hold of the black, shining HEELING OPUS MAGNUM!
Tickets: 6€/8€. Place of conception: Arena Dreiraum, Vienna

HORSE SKELETON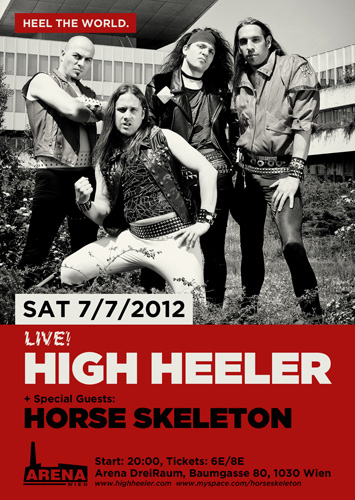 11.11.2011

CARVED IN VINYL - THE HEELING MANIFEST WILL WITHSTAND THE FALL OF TIME!

What a glorious day! After 11 years of dedicated Heavy Metal Craftmanship, HIGH HEELER are satisfied to release their vinyl-debut: The 12" Heels EP! 300 copies of shining black vinyl, refined with a great piece of high art by the Heelsquad's very own Poison Poser himself: "Medea, fleeing from the temple of Hera", illustrating the Grand-Finale of this epic Metal-Overture. Check out more info in the discography section, and don't hesitate to order here!
11.04.2011

FOR WHAT NOONE DARED TO CRAVE FOR, WILL HAPPEN.

The Heelsquad are most excited and in the last preparations for their Debut-Manifest. For It will be black, round and hard, they will pack it in a Security-Cardboard-Jacket, marked with the Sign of the Sacred Heel, for it shall not fall into the hands of the Enemy!
17.01.2011

HELLO 2011!

A Heavy Welcome to all fellow followers of the Heel! As you can easily recognize by studying the Heeling Archives, 2010 has been a quite busy year for the Heel-Phalanx, leaving almost no time for digital improvements! But as it definetly has been the "Year of the Heel", you may enjoy this short sum-up to get back into the recent Heel-Business.
Kicking off with the Title-Story in Austria's leading Heavy Metal Publication - the "BURNING ZINE" - 2010 began with a blast, followed by support shows for Heavyweight Champions as HEATHEN, LIZZY BORDEN, VICIOUS RUMORS and HELSTAR!
Crazy in Metal, the Stiletto Attackers also were lucky to find a fitting rehearsal room, gaining a hard-hitting productivity-boost - which not only led to brand new Killer-Track "KELLY" (check out the lyrics here) - but also culminated in HIGH HEELER's second Studio-Attack!
Well-prepared for battle, the Heeling Mercenaries managed to track down the pure essence of their Ruthless Metal Magic - 3 Tracks of sophisticated Heavy Metal Virtuosity, getting Vinyl-Treatment in 2011!
Alright - enough for now, HIGH HEELER will said thank you to all supporters during the last decade - let there be metal - into the future!
Here's another sexy piece for all you computer-shocked wild beasts: A striking new set of photos, taken during the Heelsquad's performance with VICIOUS RUMORS. See you soon.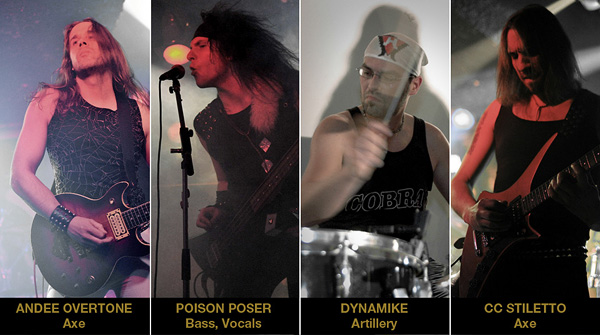 31.03.2010

11.05.2010 - LIVE DESTRUCTION IN THE VIPER ROOM WITH HEATHEN(US)

The Heeling Force takes over again! We're proud to announce a most remarquable event for the so-called scene in this pitoyable city: a triple H attakk in the Viper Room Vienna! The Heelcrew will heat it on for US Thrash Heroes of HEATHEN! Check out all the detailz on the flyer below: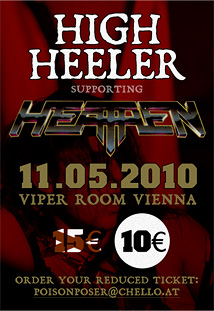 Boyz grab your patched denim, Girlz equip yourself with your sharpest stilletto! Don't hestitate any longer, check your ticket to paradise for the small price of 10€ here!
10.03.2010

HIGH HEELER – 10th Anniversary Interview

Right on occasion of the 10th Heeling Anniversary, HIGH HEELER are featured in the first edition of the brand-new BURNING Fanzine! An extensive 4-page interview plus demo-review reveals exclusive information 'bout what's going on behind the iron gates of the Heeling Fortress.
44 pages in black&white sum up the Austrian and Slowenian Underground Metal-Scene, featured bands are: HIGH HEELER, HORSE SKELETON, MADOG, DAMAGE, EWIG FROST, ENCLAVE, KELLER, GARAGEDAYS, FINAL RELEASE, SUICIDAL MANIACS, PANIK, DIE SO YOUNG, KATJUSCHA and ELIMINATOR.
If you consider yourself a supporter of the underground and lust for a classy read in the well-known heeling-vein, this investment of 3€ may dulcify your hard workin' daily grind.
15.11.2009

BLAST FROM THE PAST - REPORT OF THE BYH-FESTIVAL 2001!

Those were the dayz, my friends and brides! A whole luscious Heeling Crew worships the real godz!
Enjoy a nice report from Bang your Head - Festival 2001 in the Federal Republic of Metal, written by
our former member: Herkules! Galleons of beer were running down our throats!
Step here for all the smutty details!
27.02.2009


ENJOY SOME HEELING PERFORMANCE ART - NEW PIXX UP!


So, for all of you, who missed our most lucrative side-projects in the last months: get a glimpse at some pure
body-performance-power! See the Heeling Knightz perform the first time in the old Remise Breitensee, sourrounded
by finest 80iez-neon!

And here, we did it again! For the first time, we offer you a YouTube-testimonial!




Step here to enjoy some pixx of this exeptional moment at the brut in Vienna!



12.10.2008

HIGH HEELER goes ART Pt. II - Künstlerhaus 17.10.2008

Last year we did it for the first time! In the catacombs of the old Remise Breitensee, enlightened by some ultra
sleezy 80iez neon-power, the Crüe presented for the first time a riveting art-performance. All made up in the glittering
outfitz, we wielded swordz & axes with our poundig muscles! it wasn't even necessary to be plugged in to reveal
the heeling stagepower! We left behind a stunned crowd, speechless in the very sense...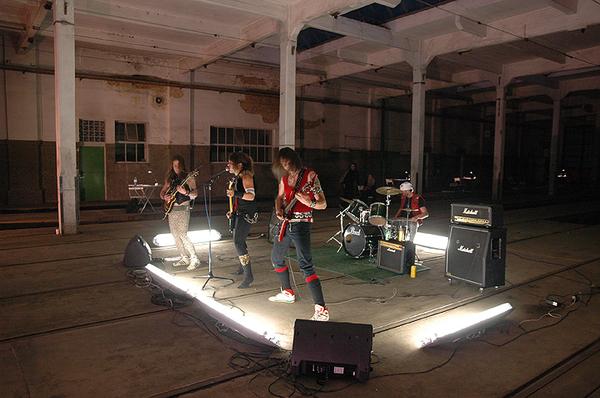 Overwhelmed by the reactions, we do it again! Friday the 17.10.2008, we are invited into the cubic hallz
of the künstlerhaus wien, to let the energy flow once again...so don't miss it, be there!

Get all the infoz here: brut wien



17.09.2008

DEATH TIME! HIGH HEELER LIVE: 11.10.2008, 20:00, SCHLAWINER VIENNA

The freezing winternytez arrive with a merciless Bang of the Heelfist!
Be sure to chekk out the HeelCrüe in highest condition as they rokk the tomb
of the viennese SCHLAWINER! As a special gift HIGH HEELER could settle
a deal with the crew at No Keyboard Productions to bring you this very special
performance for nothing but ABSOLUTELY FREE! The Heeling Pack will deliver a
full Headliner Show, so grab your lipglossed girlfriends and tight-pantet boyfriends
to celebrate the METAL OBSESSION!
And don't get stukk in some excesssive "Vorglüh-Session", 'cause the show will start at 8:30 SHARP!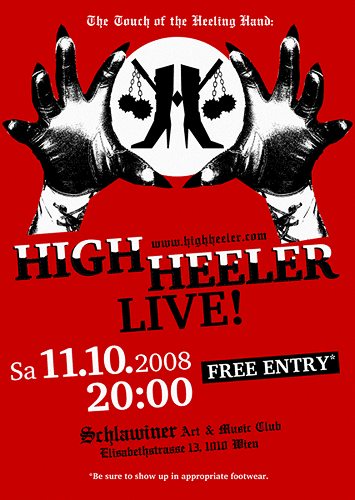 01.01.2008

FUTURE SHOKK

Due to claiming demand of our highly appreciated Heavy Metal Slaves HIGH HEELER decided
to take a step into the future and serve your needz for a direct, quick and sexxy way
2 communicate with your favourite Inquisitors.
Join the Heeling Forces on our glittering new HEELSPACE and feel free 2 leave your mark.

Nu Year - Nu Likkz
xxxthe HeelCrüe



03.04.2007

ATTENTION: Date Changed: 09.06.2007

THESE HEELZ ARE MADE FOR MARCHING - 09.06.2007 LIVE DEVASTATION ANNOUNCEMENT!

Get ready, time to lay down the sneakerz, time'z right for another live torture! However,
'cuz torture is too kind for you bontempi-worshipping scum, we decided to continue our
missionary work!!! This time we've found a real fist full of supporters, we're proud to
announce: 09.06.2007 framed by Metalzone Kaltenbach in the Vienna Escape, we will
stand in one row with the warriors of Halor, legionnaires from hungary, Neochrome,
austrian Darkfall, as well as Defender KFS, and finally Acanum!!!
We don't have to mention, that this has to be marked red in every poser-scum's diary,
have we? However, newz about tixx and further details to come soon...



28.02.2007

NEW HOTSHOTZ OF DESTRUCTION!

We're extremely pleased to present you two setz of new sparkling hotshotz, which
have prooved to be best way to get a glimpse of the majestic overthrowing force
of a real heeling massacre! These precious documents which frame last year's heeling
activities should serve best to proselytize even the dumbest of you sneaking, hip-hopping
crackerjack-scum!!! Enjoy a double trouble of the Heeling Masters crushing
the Vienna Escape or - however take a deep breath before stepping on - the follow-up
ravage right in the hood of Aspern at the No Sleep 'til Aspern Festival!!!



06.11.2006

OH NO! VIXEN SHOW CANCELLED!

Tragic news: Due to circumstances out of our bearing the VIXEN show is cancelled,
so the Heels won't march.
All Stiletto-Wearing Followers who already purchased a ticket can return it
where they bought it - sorry for that inconvenience.
Nevertheless - at the moment the Heeling Pack is heavily welding hottest & most
exciting riffs, so expect some fresh lickz at the nexxt attakk!

Until then enjoy this complete 1985 concertof one of the Heeling-Favez: Martyr!



03.11.2006

COLD NIGHTS - HOT NEEDLES: NEW HEELFASHION ARRIVED!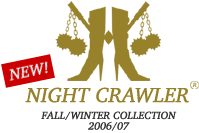 Hail Fashion-Victims! As the nights get cold again and the year slowly steps
to it's verge the Hot-Couture Designers exhumed their sewing machines and stitched
together some excellent new stuff for you! The brand new Night Crawler Collection
has arrived - ready to fit every of your athletic chests! This Limited Edition
is exclusively available through the Heelstore, so don't hesitate and grab it -
you won't get it anywhere else.

Thrash that Skate-Punk-Shirt and get in style now!



18.10.2006

LIVE! 2.12.2006 - HIGH HEELER VS VIXEN

After the various valuable gifts of metal the Stiletto-Attackers presented you during this year,
another exceptional highlight still lurks for its release: As a very special X-mas present
HIGH HEELER will part stage with no others than the incredible all-female stiletto-wearing glam-sleazing
axe-grinding lippsticking chartbreaking sorceresses of V-I-X-E-N!
And that's not all: As a special deal we can offer you the tixx to this helluva night for nothing more than 13€!!!
Be quick to check out this limited offer and contact the Heeling Headquarter for your reservation now!
The party will take place at the well-known sneaker-pit called Planet Music, formerly known as Rockhaus Vienna.

Alright, so until then keep the hair in shape, here's some education for you:
Official VIXEN homepage
For some soundbites of their excellent new album check this out:
VIXEN at myspace
And here something very special:
Be sure to get some style-inspiration and risk some lookz at their greatest video-hitz on youtube!
Edge of a broken heart (Highly Recommended!!!)
Cryin'
Love is a Killer
Love is a Killer (MTV unplugged)
Love made me



10.08.2006

HEELING EDUCATION - 2.9.2006 - ASPERN

No matter the temperature on the streets, the real heat is where the Heel steps!
Fully refreshed the Reapers of the Heeling Law are back with a vengeance to educate
you all with a coaching-lesson in Steel-Forging-Art! Heavy Metal Class takes place
in the suburb of Aspern, a well known place for busy students of Heeling Art. Everything
should be ready at your appreciated arrival at 8 o'clock, further classes will be Rock'n'Roll
hosted by THE NASTIES, BAD GIRL'S MAGAZINE and SIAMESE ROUGE. There will
also be post-midnight supervision by the legendary LOO WALTER.
Inscription fee is 8€, but contact the Heeling Scholars - maybe they can submit
an offer to you.

Take the 26A from Kagran and exit at "Siegesplatz", then cross the street and you're
ready. Volkshaus Aspern, Asperner Siegesplatz 7, 1220 Wien



13.05.2006

THE HEAT IS ON - TEMPERATURE RISING AGAIN!

As hott summer nightz knokk on the doorz of the Heeling Residence, the hott summer knightz
polish their steel again and – as stated below – re-sharpen their stilettos to scrape viennese
ground again! Armed with deadly weapons, as the likes of the latest masterpiece entitled
The Rise and Fall of the Iron Torpedo, only the most fierce and experienced bangers should
accept the challenge to join this shrapnel-fire-party, all you other jacks may consider
your participation very well...
Anyway, to ease your decision we can offer a thundering pack of new sparkling hotshotz of the
Heeling Pack on Tour – taken during the HEAVY METAL BREAKDOWN in Graz, where High Heeler
could concrete their reputation as an uncompromising outfit of conceptional art. See you at the
Escape, and remember: GIVE POWER TO THE CHORD!

ATTENTION: As Dekapitator cancelled their tour the new billing is HIGH HEELER, ALPHAWOLF, TOXIC



20.03.2006

HEELZ MARCHING ON - NEXT GIG 6.6.2006

As it's proven that not every crowd is ready for the heeling experience
we head for new shores and face another challenge: The Stabbing Heels
will take the stairz down to the catacombs of the viennese Escape to join
an evening of Nuclear Mass Destruction, getting it on for US-Thrasherz
TOXIC and DEKAPITATOR! Step here for a glimpse of the flyer!!!
To shorten your longing, we recommend to enjoy a first impression
of the recent Heavy Metal Breakdown in Graz where the Heeling Pack
made clear what Bontempi-Killing is all about!

The Great Bontempi-Kill
1280x1024
1024x768



22.01.2006

HEELZ UPON STYRIA - HIGH HEELER LIVE AT THE HEAVY METAL BREAKDOWN, GRAZ, 11.3.2006

Time is right, the Legions summon! The Call to Arms echoed up to the Parnasse and without
hesitation the Heeling Commando follows! Joining Forces with Comrades-in-Arms MADOG,
WARLORDS and KATHARSIS, the Fierce Warriors will fasten their Seatbeltz and put their
Tank on Track, straight to the Styrian Capital! Grab the Heels, put on the pantz and
move your asses straight to the very epicentre of this tremblement de terre, namely
the EXPLOSIV! As this is a common destination for every Metalhead, you shouldn't be
troubled to arrive there in time and pay homage to the Blessed Warriors of the Sacred
Heel, for you all shall have the chance to regret your Sins and recieve the Absolution
of Stainless Steel.

To check out all Detailz 'bout this very Communion of Liquid Steel step here: www.aaas.at

Sweating Flesh left and right - Metal Obsession takes over tonite!



20.12.2005

ENJOY SOME SWARMING BACKSTAGE PIXX!

First, thx to all brave soldiers who are assisting so strong-hearted in battle, since we are
near another x-mas headbanging party overkill, we wanted to grant you a litte present, so your
banging around the christmas tree shall be even happier!!! we put up some pixx of our latest
celebration, if you've been there you know what this means! In any other case (we're not curious
about your sleazing excuses!) you may take a look on what you've missed!!!
If ya want the lookz just step straight here, if you want to have a report of the battle, we highly
recommend to step here! In any case, greetz and cheerz, a high-heeled x-mas and a good
step into the new year!!!



05.10.2005

THE HEEL PATROL SWARMS AGAIN - LIVE ON SAT, 22.10.

Hailz go out to our comrades-in-arms of NO.Way!, who granted us the offer to join them at
a tremendous mass-coversion of steel. Since we're to blame for a considerable time of stage-
absence, you, the rotten hordes of sleazedom, have another excuse for the high amount of your
wilful bontempi-abuse! However, your wading in the sneaker-swamp shall now come to an end!
The mighty Heel Patrol is back on the run and we will ravage another hideout in order to continue
our metal-missonary work! The mass-conversion will take place in the desperate halls of the
Backstage Cafe (the rumors say that this mournful place even torments the few travellers, which
happen to stop there in despair, by some sort of e-drum-set!). So, you can easily imagine the
necessity to let 'em feel the Power to the Chord! Since everybody is free to receive the metal-
sacraments, there be no entry fee, and the mighty lord shall guide you to the light...



15.09.2005

MAXXIMUM VOLUME FOR MAXXIMUM SALVATION!

Dear lustful crowd, years and years passed by, and your desperate calls grew louder
and higher, so high that they finally echoed up to the arcadian Parnasse of the Heeling
Gods. They conlsulted the wise Oracle of Steel to decide whether the time was right to
answer the craving prayers or not. And the wise Oracle parted the clouds so that the Gods
could see the ground far beneath them. And what they saw was dreadful. A swamp of disease
and desperation, the people had lost their way and lived in sin. The Heeling Council came
together and after ample discussions their compassion prevailed. Generously they decided to
reach out their noble hands again and to lead you out of the darkness.
Now it's your turn, touch the healing hand of salvation or choose living in sin!




08.04.2005

HEELFASHION AGAINST VIENNA STYLE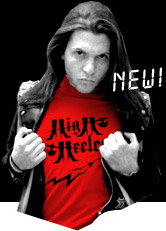 Hail Fashion-Victimz! Do you know what VIENNA STYLE means? You
got it, it definetly means "NO STYLE AT ALL", and -listen up Vienna-
Stylers- no matter if we judge your visual or musical taste or -even
worse- your musical output, it's got no style at all, it even insults the
mind. We cannot sufficiently explain how terribly malevolent this
Vienna-Style-Thing is, but -let's put it that way: There is only one
single word that is even more disgusting than Vienna Style -and this
word is "M*****F******" (we won't type that word on these sacred
pages).
So remember this, you (watch out, deathbringing combination)
M*****F****** VIENNA STYLE MEMBERS, you are even more evil than
Lars "f******" Ulrich and his friends.

Got it? So back to the point – if you are no member of the mentioned
Vienna Style Syndicate you should listen to this:

Together with leading Pret-A-Porter-Expertz HIGH HEELER developed a totally unique Fashion-Line.
Available in various sizes the Heel-Couture fitz every body, no matter if Heeling Bride or Leather Warrior,
and gives you the lookz that literally kill. As usual we spared no effords to bring you only the
highest quality – both in material and design – and so the result definetly strikes the eye of
every cracker-jack. No matter when or where or who – Heelfashion always rips. Check out the
brandnew collection in our brandnew online store and choose your armour – life is tough out
on the streetz. Step into the Heelstore!




23.03.2005

AGENT STEEL SHOW CANCELLED

So here comes really bad news: the Masters of Metal definitely will not ravage
this pitoyable town. So, do you smell the rotten stench of Vienna Style about this? You should!
'cause it seems that all you cracker-jacks are to blame for this! Instead of appreciating
our effordz to bring the real steel to this stinking place, you prefer paying lotz for
whimpering stuff like nightwish, or for some visit in the panda-zoo, or whatever the sleazing
trend goes like. Fact is, that due to the catastrophic advance booking, the show had to be
cancelled and so the sacred heelz won't march! Of course we know, no leather warrior buyz a
stinking pre-sale ticket, but we also know that the real problem is your sleazing taste,
and if you're not willing to appreciate the crushing Metal-Power of a solid rock like Agent
Steel, who withstands the poser-breakers now for at least two decades, there seems to be
no cure, no healing potion, this has to be recognized as a sign of decay! There are true
legions out there -even here! ...however slowly, the faith is fading...




04.02.2005

HIGH HEELER VS. AGENT STEEL - Messing with the Masters of Metal!

Hail, the latest bonecrushing news: The 06 of April in the year MMV of the sacred heel - this date
has to be marked red in EVERY posing schedule of EVERY sleazing, so-called FAN, who pretends
to worship the real steel - on the 06.04.2005, a new era of heeling history is going to be written: High
Heeler have the unutturable pleasure to participe at another ultimate event of destruction!!! The mighty
Masters of Metal will ravage our lovely hometown, and they have chosen us to join their conquest!
(cheerz and thx go out to Noise Factor!).
So to make this clear once again: On 06.04.2005, Clash of the Titans: HIGH HEELER, the Masters
of Austrian Metal, pledged allegiance to the Masters of intercontinental Metal, AGENT STEEL! There's
only one crappy sneaker-hideout, which seems to be capable of coming through such a double attakk!!!
You guess, we're talking about an abominable shack called Rockhaus Vienna, where nowadays all the
sneaker-scum and bontempi-sinners are lurking. So this time, there will be no mercy! If you want to
participate (which is more than a word of advice!), there's the possibility to get a reduced ticket from us!
So if you want a ticket for 16€, step here!!! Finally, we cheer to the brave, the sleazy poser-scum shall crave!




07.12.2004

GIVE POWER TO THE CHORD!

Hail, Sinners! As time marches on and HIGH HEELER managed to recover from the heavy Touring Activities
during late Summer, here's a new proof of their abilities: Especially for our poetry-loving followers we
put on the latest masterpiece of Heel-Lyricism, namely Power to the Chord, an ode to the incredible
possessing force that rips your mind when the vibes of the almighty POWERCHORD creep through your ears,
right into your brain and give you that special feeling of absolute Ecstasy. But of course, there's
no Ecstasy without Danger and so you better beware not to remember these lines on the next stop of
the HEEL THE WORLD TOUR near your home! Step here to make the acquaintance with the Heeling Library...
The Grandmasters of Steel-Forging-Art will test your Knowledge, so receive the commandment of unaltered
steel now and the Heeling Goddess will be graciously take care of your soul.

And if you think you're a poet for yourself don't hesitate to use our Book of Wisdom to share your
thoughts with us – the Heeled Batallion will watch your sticky fingerz.



08.09.2004

HIGH HEELER - LIVE 18.09.2004

Since there was a considerable period of silence concerning the most pitoyable of all places within the
walls of this awful sneaker-hideout (i.e. Vienna), we're honored to announce the next step on our warpath!
To prevent further sins of sneaking and bontempi-abuse, the mighty warriors of the Heeling Brigande decided
to start another assault on the bontempi-stained barracks of the Rockhaus Vienna! Our Metal Spies have
reported an increasing armament of bontempi-weapons and tuned-down axes, so, in order to stabilize the
crisis area, High Heeler will lay another sneaker-bait and let'em taste the blade of real Steel(in perfect harmony,
of course, with the 70ies-hard-rockin'-rootz)!!!
It's of major importance, that you -the only Battlehordes of Steel- show your presence to the danger and drag your
bloody sneakers to the (mentioned above) Rockhaus Vienna on Saturady, 18.09.2004, the registration fee will be
6€ here, right at the Heeling Office! So this goes out to all men and, of course, all brides, who are fit for the fight:
grab your patched denim/your heels and assist the battle!!! Finally, the only thing remaining is to express our
confidence in a splendid massacre!!! So cheerz, see you on the battlefield...



05.08.2004

WE PLUGGED THE UNPLUGABLE! - SOME NEW CRUSHING PIXX

At first there goes a big thx out to all of the brave followers of the Heeling Battle Cry! We're
obviously living in a time so awful for the Real Steel that one has to be thankful for visitors of a
free concert! However, the smaller the horde, the more devotion will remain! The Heeling Brigade will
carry on with a fight, which shows (sometimes) a glance of pointlessness here, on the pitoyable grounds of
Vienna! That, at last, is what it's all about, another sneaker-swamp namely the Vienna Unplugged was
conquered once and for all, however the eternal curse of the holy Heeling Inquisiton shall lay upon them!
If you're interested (especially the sinners who dared to ignore a free concert!!!), you can read the
whole tale of the ancient battle between good and evil!
Finally, as a little gift, have a look at the newest hotshotz of destruction here! Cheerz...



30.05.2004

HIGH HEELER LIVE AGAIN - PLUGGIN' THE UNPLUGGED!

Great bonecrushing news: To avoid the usual summer-laziness High Heeler decided to participate
once again at some sleazy poser-contest!!! This time we will ravage another sneaker-hideout, namely
the Vienna Unplugged! As you can probably imagine this sounds like more than an invitation to us!!!
So be prepared, we are PLUGGIN' THE UNPLUGGED! In order to grant a maxxximum destruction
for this time, there will be an urgent demand of YOU, the battle-hordes of steel!!! The battle will take
place on July 20th, and the most exciting fact of all: there will be no entry fee, it's totally free!!!, so we
don't have to mention, that there's absolutely no excuse for your sleazy absence, have we?
You can't sneak away this time, there's no escape!!! Cheerz...



27.04.2004

New Poetry arrived!

Especially for u dirty Bontempiscum, who don't honour our Champions-Leagueesque Highest Level Poetric
Manifestations, we put on the lyrixx of the latest Heeling Masterpiece, namely "Marriage in Blood"!!!
Once again you can experience highest historical content, cloaked in an edgebreakin' armour of steel!
Learn more about the bloody rumours in Paris anno 1572 here!



19.01.2004

High Heeler hailz out - Pixx of the Triumph!!!

Cheerz to the great crowd, which assisted in the fierce battle against the Bontempi Supremacy! One more time
it became evident, that METAL is regaining territory in this miserable Nu-Bontempi-Cracker-Jack swamp,
which is also known as Vienna. The Battlecry of Steel echoed over the Bontempi-stained-Barracks of the Vienna
Rockhaus on the glorious evening of the 10. January!
As a gift, we have put up some pixx! However this historical moment deserves even a chronicle!
Thankz again to you, the brave Soldiers of Steel!!! Enjoy...



31.12.2003

HEAVY NEW YEAR!!!

Gather all of you Bontempi-Sinners and have a true party! And don't forget, besides, to
drag your bloody sneakers to the hardest and loudest prelude (of course in the metallic
sense!) of the coming year...10.01.2004 in the bontempi-stained barracks of the Rockhaus!
This date should be marked blood-red in every calendar of a so-called Metalhead!!! Cheerz...


27.11.2003

Some new lookz - that probably kill!!!

Hopefully you dirty bontempi-Scum will keep in mind our next stop on the crusade against
bontempi-abuse. You certainly remember the first of all metal commandments, which says: Do
not use bontempi-sounds in a well-structured metal-song! We will take this on as holy task,
and due to all our duties among the Metal Inquisiton, there will be a splendid live-
destruction in the heretic halls of the Rockhaus. We will celebrate the eucharistie of steel!!!
So remember: The massacre will take place on the 10.01.2004 in the heretic halls of the
Rockhaus. Tickets will be available for 23 €, unless you like to support High Heeler! In this
case the ticket will be 19 € and you just have to heel us a message!

Besides we have put on some new lookz, enjoy, it will shorten your time of fasting! cheerz...


29.09.2003

Bonecrushing News - High Heeler LIVE again!

The time seems right to announce some nouvelles, which will certainly let freeze the
blood inside of all your bontempi-beating veins! High Heeler will conquer the stage again,
and this time we are proud to assist the fierce warriors of GRAVE DIGGER. The old warship
under teutonic flag has set course to Vienna and it will be followed in its wake by WIZARD
and SYMPHORCE!!!
The massacre will take place on the 10.01.2004 in the old barracks of the Rockhaus. Tickets
will be available for 23 €, unless you like to support High Heeler! In this case the ticket will be
19 € and you just have to heel us a message! We are looking forward to a splendid battle
and this time there will be no excuse for any posing indisposition!!! So take care...


09.07.2003

Some Minor Updates - Spam Warning!

Hail brave Warriorz, the Heeling Brigade is right back from the recent Bang-Your-Head
Festival. Like you can easily imagine the trueness, which was floating all around there, we
charged our batteries with the purest steel. However coming back, what do we have to see???
The whole guestbook spammed over? Since this seems to get out of control, here's a fair warning:
There's nothing to say about giving a link to your band/homepage, however if you decide to
spam in our guestbook without even losing a single word about High Heeler, we will send the
Holy Metal Inquisition to punish you severely...so beware, dirty Bontempi-Scum!!!!!


05.05.2003

Section Update - New Pixx and Heelstory entry!

First of all, cheers to all the brave warriors, who supported us live in battle! See some
great new pixx (of course the posing scum, who preferred to watch football-matches or
invented some other sleazing fairy-tales just not to visit our show, you may also risk a look!)
Step here for the pixx or here for the Heelstory! Cheerz!!!



03.04.2003

STEVE PALACE WHIMPED OUT!

Hail Poserscum! Highest Changes on the Heeling Front: Due to repeated Untrueness, HIGH HEELER
had to send their sleazing frontman, Steve "Diva" Palace, straight to hell. As we know that you, our
Heelslaves, only accept the purest essence of metal spirit, this was the only possible decision that
could be taken.
Steve Palace broke the law of the Heeling Manifest, and so he has to taste the wrath of the Heeling
Gods in the Abyss of Whimpdom.
But the conquest has to go on, and so -after days of consultations- the Heeling Godz chose another
strong warrior and equipped him with the mighty Lungs of Death: The infamous Poison Poser! From
now on he'll overtake the Mike and rip your ears with his powerful organ. Read more about the new
Heeling Constellation here!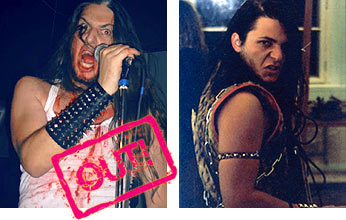 Some of you already had the chance to check out the poisonous singing-abilitiez during the destruction
of the Viennese Shelter, all the otherz may take a hotstep to our Heelstory or to the impressing
Visual-Archive to get an impression of the recent Heeling Power.



08.03.2003

HIGH HEELER LIVE – 02.04.2003, Shelter/Vienna

It's time to crush native fields again! After last year's ripping xcursions to LA (examine our
Heelstory !) it took some time to recover, but now the Pack is back! Due to permanent
craving requestz by You, the Lickerz of our Heelz, HIGH HEELER chose to do it another
time: Together with the Rockerz of Dreadface and Taish, HIGH HEELER will crush the
Viennese Shelter to the Ground! Don't miss the Heelerz presenting neckbreakin'
overtures such as Kalashnikov,Steeletto Attakk or even their brand new masterpiece:
Metal Obsession!!! If there's any problem which prevents you from visiting the show,
just tell it to the Heeling Soldiers and they'll solve it for you!



09.01.2003

POST SCRIPTUM

P.S. for the matter of our last news, since there were some dump sleazerz, who obviously didn't get the message, we tried to
communicate to all of you bontempi-sinners. We want to make this clear now, so everyone would understand once and for all:
We are sure you know our famous comradez-in-arms like Iron Maiden or Judas Priest. Not that we want to compare
ourselves with these mighty warriors for the cause of metal, it's just like you would talk of one of them and put a sleazing "s"
or "z" sound at the end of their euphonious names, i.e. Iron Maidens or Judas Priests, which would sound simply terrible!
Like you would never do such blasphemy to their names, we neither want you to do it to ours! Got it now? Good...then cheerz!!!



25.12.2002

New Startpage - Some high advice!

As you have certainly become aware of, we put up a new startpage! enjoy this fine label and the fact that the mighty
High Heeler are practising some excellent Bontempi-ripping since the year of the Mighty Heeling Spirit MCMXLIX. There-
fore, as a symbol of triumph, we decided to change the start-page in order to pay our tributez...
As a matter of fact, the second announcement we have to do, is a more serious one! In the past we had to hear often the painful
"s" or "z" sound put at the end of our heeling call! We now feel the need of some hard and high determination: Every poser-sleazer-
crackerjack-scum, who will dare to put an "s" or "z" sound at the end of our well-sounding name, will taste the merciless wrath of
of the Mighty Heeling Spirit and will burn forever in the lurid Abyss of eternal Bontempi-Damnation!!! So this is our suggestion
of your heeling oath for the new year! Finally, Best wishes from our side!!! and be aware!!! High Heeler cheerz!!!



30.09.2002

Great Sectionz update/Technical Fix! - Poetry and Heelstory updated!!!

First of all we would like to invite finally all of the Mac-Heelers to visit our page!!! After considering the heavy
complaintz of some mac-heelers, we managed under great efforts to develop a completely new technical achievement,
which will allow furthermore all of the non-explorer-heelers to access our page with the same high pleasure!!
For the update, we offer you for now a completely new design of the poetry-page, which includes all of your well estimated
heeling-poetry. For all the bontempi-scum, who dared again not to visit our showz, you may now read, what you've missed in
the Heelstory-section!
As ever, we provide you the hotstep function to take a step back to our Heelstory or to take a look at
your homework before visting the next High-Heeler-Stage-Conquest!!! Step to the Poetry-Section here!



22.09.2002

High Heeler salutes you!!!

Cheerz to our brave crowd, who even stepped out with us to unkown shores!!! We hope you all had a lot of fun
(especially the visitors of our secret gig in Laa!)!!!. High Heeler is alive and stronger than ever before!!!! We
will step out in the service of the mighty Heeling Spirit to crush the bontempi-scum!!! So take care and hide your
sneakers...
For all the non-excusable bontempi-sinners, who are afraid of visiting our shows, take a step to our Heelstory
and take look at what you've missed!!!



25.08.2002

Indroducing C.C. Stiletto

We like to introduce our new/old Comrade-in-arms: C.C. Stiletto!!! He will join our crusade from now on! If you are
curious about his abilities, we suggest to take the hotstep function (step on his pic!!)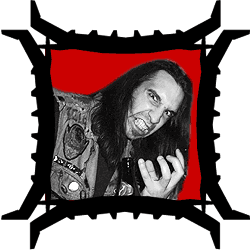 17.08.2002

HIGH HEELER LIVE - THE COMEBACK, 14.09.2002, Jugendzentrum Hainburg/LA

Attakk! After almost half a year of stage absence, the Heelerz return to the glamourous
Showbiz! Red, Hot and Ready, the High Heeled Killers will bring the Spirit back again,
introducing the ripping C.C.Stiletto on the second Heeling Axe! Again you can expect
unbound live power, crushing drumz, shrilling guitarz and terrifiing screamz, so watch
your step!!!
Companions in Blood will be the well-known rockerz of Firestorm and Scheol ! For
all you Brothers and Sisters of Metal who want to yoin our crusade, don't hesitate to
contact the Heelerz for hottest infoz, VIP-ticketz, Backstage-Passes, etc. here!



10.07.2002

New Sectionz up - Heelstory updated and some new posercrushing Pixx!!!

Step into the new Heelstory-section to discover our whole live-history! There are
some nice descriptionz and featurettes included, which will bring the highest pleasure
to all of our fans!!! Choose Heelstory in the menu or just use the hotstep function to take
a step back to our Heelstory!
We also put up a new gallery of stage-melting live-power! If you're in need of another breath-
taking proof of the unbound Heeling Spirit, there's only one way! Step here!



15.06.2002

Herkules dropped out!

Herkules our well known axeman has left High Heeler, best wishes from our side, although
we can't take any responsibility of which poserscum-bands he intends to join from now on (you
know, who you are!!!!)...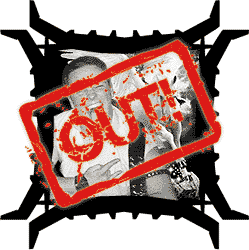 20.05.2002

New Pixx-Section is up - High Heeler destroying Aspern!

Step into the new Pixx-section to get a hot glimpse of another heeling massacre!
We are proud to anounce a new section full of stage-crushing, uncensored, mercyless
live-shotz!! Choose Pixx in the menu or just use the hotstep function to see us
Destroying Aspern!



26.02.2002

NEW HIGH HEELER SOUNDZZ AVAILABLE!!!!

We are proud to present new downloadable power!!! As we already know, there are some very ugly
bontempi-sleazerz out there, who don't even have a glimpse of what High Heeler's sound is all
about, who are NOT visiting our shows and thievingly downloading the might via sleazer-net! However
here is some more live-power, which will definitely be capable to melt down your hi-fi! If you feel
hard enough, don't hesitate get it here!



20.02.2002

HIGH HEELER BOWS TO THE BRAVE CRUSADERS!

First of all thanx to all of you, brave crusaderz! There are some bad news which in fact are not
at all bad! The cracker-jack-posers at the YBC-poser-contest finally surrendered. After our last
inferno they just turned out to be the ultimate poser-scum! Once there was a glimmering hell of
a live-location, which has turned nowadays, however, to a really pitoyable (i'm hardly trying to
find the right words for this really desperate situation), a stinking, crossover-licked, bontempi-
stained, trend-sucked clan of kiddy-whimps! Despite the fact, that High Heeler will always contribute
their power to the Mighty Heeling Spirit, it becomes obivous, that we have no longer the intention
to be a part of shit like that! Finally - to cut a stiletto-heel short - we decided that this was the
last time to participate at such whimpy poser-assemblies! The following High Heeler-Massacres will
take place in selected clubs, and also with selected bands, who are willing to raise the mighty spirit
of METAL and nothing more...So long, stay high (girlz) and heavy(boyz)! We hope to see you
next time in a more approbriate location! HEELZ HIGH!!!!



23.01.2002

HIGH HEELER LIVE AGAIN! - 15.02.2002 - YOUR FINAL CHANCE!

First of all thanx to all of you, joiners of the crusade against the cracker-jack-location no. 1!
We made it to the semi-finals of the YBC-poser-assembly. The posers want blood - they will
get some! Delivered by the High Heeler Sneaker-Scum-Crushers - and this message is also
dedicated to the weakest bontempi-scum amongst you, who missed to support us! We kwow
who you are!!!! However the semi-finals of this pitoyable so called "contest" will grant us again
an amusing occasion to pulverize some poserdom! The slaughter will take place on the 15.02.,
in the Year of the Mighty Heel 2002 as usual in the bontempi-stained barracks of the Rockhaus
Vienna (nowadays known under the posing flag of Planet Music)! We hope to see you there!
For tickets/infos/etc. just heel us a message!


20.01.2002

New Pixx-Section is up - Crushing the Rockhaus Pt. I!

Step into the new Pixx-section to get a hot glimpse of the heeling crusaders!
We are proud to anounce a new section full of hot, uncensored shots!!
Choose Pixx in the menu or just use the hotstep function to see us Crushing the Rockhaus!



05.01.2002

HIGH HEELER SOUNDZZ AVAILABLE!!!!

Some hot newz! Finally, We are proud to present some downloadable power!!! If there are still
any bontempi-sleazerz out there, who don't even have a glimpse of what High Heeler's sound is all
about, take this! Recorded live under rawwezt conditionzz, this shows you the godly live-power of
the Soldierz under Command of the Sacred Heel! Get it here!



20.12.2001

HIGH HEELER LIVE AGAIN! - 11.01.2002 - NEXT ROUND AT THE YBC

After hard discussions, the mighty Crusaders of the Heeling Axe forged the decision to participate
at the "next" round of the YBC-poser-assembly. Although, it is NOT the semi finals (obviously they are
trembling of a band like us, known for unbound Metal without even a glimpse of mercy, stepping to a
higher level at once). To cut a high heel short - and this message dedicated especially to the weakest
of all you bontempi-scum, who dared again not to visit our gigz! - High Heeler crushes again the stage:
11.01., in the Year of the Mighty Heel 2002, as usual the whole massacre will take place in the
bontempi-stained barracks of the Rockhaus Vienna (nowadays known under the posing flag of
Planet Music)! We hope to see you there! For tickets/infos/etc. just heel us a message!


15.11.2001

HIGH HEELER LIVE AGAIN!

High Heeler will conquer the stage. We are proud again to announce our follow-up gig!
On Saturday, 03.11.2001 we will participate at an hilarious festival, namely the
Keep the Rock Rolling Vol. II taking place in the Volkshaus Aspern(Siegesplatz 7,
1220 Vienna, Entry: 100 ATS)! This time we are honoured to play with Vienna's most
outraging Rock-Heroes: Los Deepest, and two other great bands, we'll check out
ourselves for the first time at the festival:Bad Girls Magazine and Drunken Angels
We hope again to see you there (especially you whimpy cracker-jacks, who missed
our last gig!) For tickets/infos/etc. just heel us a message!


06.09.2001

HIGH HEELER LIVE AGAIN!

Time is alright again! High Heeler will conquer the stage. We are proud to announce our
next gig! On Saturday, 13.10.2001 we will crush another Poser-Contest, namely the YBC taking
place in the Rockhaus Vienna (nowadays known under the posing flag of Planet Music)!
We hope to see you there! For tickets/infos/etc. just heel us a message!


01.09.2001

Hot Linkz Section is up!

Finally we have set up a short list of bands and friends, crusaders and companions,
metal warriors and heeling brides, simply some high recommandations by the Fierce Soldiers
of the Heeling Axe! Check them out here!


07.08.2001

Bang your Head Review featuring hot Pixx up!

Especially for you posing Bontempi-scum, we have set up a short review of
our impressions concerning our fascinating trip to the BYH including some hot Pixx!
Though it's a shame, that you might not have been there, you shouldn't miss this!
Take a look behind the scenes of a real true Heeling Crusade here!


03.07.2001

Back again!

The fierce Soldiers have returned! We spent two days praising the highest
Lords of the Mighty Heeling Spirit, and it was just amazing...maybe we'll do a
a short review with some hot pixx here, it was just unbelievable true...
We came, we saw, we conquered!!!!!!!!


28.06.2001

See ya on Bang-Your-Head Festival!

Now its time to leave for a short while, Herkules, Overtone and Palace
will go for the next Heeling Crusade! It will lead us to the truest Metal-Festival,
namely the Bang-Your-Head Festival in Balingen/Germany! We'll have
a good time there, and if you're no bontempi-sleazing poser, we may meet
there, drink some beer and bang our headz to the truest tunes on
this planet! See ya soon...


18.06.2001

Pixx are up!

Step into the new Pixx-section to get a hot glimpse of the heeling guys!
We are proud to anounce three sections full of hot, uncensored shots
Choose Pixx in the menu or just use the hotstep function to see great
Live Shots here.


18.05.2001

Finally High Heeler conquer the net!

We're proud to present you, true believers, High Heelerz first step in
the eternal posing dephts of the internet. Enjoy this page, there are
a lot of features included, which will bring the highest pleasure to
all of you posing bontempi scum!